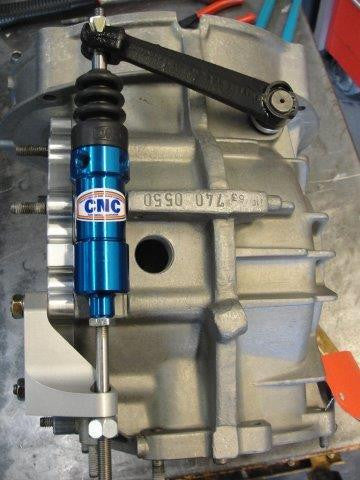 CMS PORSCHE 915 HYDRAULIC SLAVE CYLINDER CONVERSION
We can provide bolt on hydraulic slave cylinder for your Porsche 911 915 transaxle eliminating all the woes that come with a clutch cable.  It can be used for both upright and inverted applications - especially nice for mid engine conversions.
Includes clutch arm, cable clevis, slave cylinder, spacer, seal and our billet slave cylinder bracket with bolts.  This requires the use of the 1977 and earlier clutch fork pivot shaft.  Pre-mousetrap!
Note: This requires a portion of the rib on the bottom of the transmission that holds the original clutch cable to be cut away on 72-77 models.  To go back to a cable configuration if one so chooses can be done with a bolt on bracket.
A 3/4" clutch master cylinder is recommended - not included.